This is one of my favorite meals to make in a pressure cooker. It feels like cheating for such a fancy, tasty meal. Plus, you have extra wine to enjoy with dinner!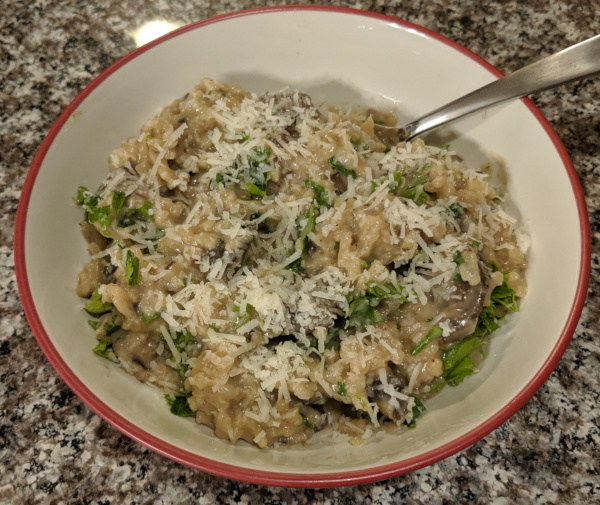 | Prep time | Cook time | Total Time |
| --- | --- | --- |
| 15 minutes | 30 minutes | 45 minutes |
Ingredients
1 qt low sodium chicken or veggie stock
4 oz shitake mushrooms
1.5 lbs mixed mushrooms (cremini, oyster, chanterelle)
4 tbsp extra virgin olive oil
4 tbsp unsalted butter
1 medium yellow onion, diced
2 medium garlic cloves, pressed
1.5 cups risotto rice (arborio, or vialone nano)
2 tsp soy sauce
1 tbsp light miso paste
.75 cups Pinot Grigio
.25 cups heavy whipping cream
1 wedge Parmigiano-Reggiano cheese, shredded
1 bunch flat parsley, chopped
Salt and Black Pepper
Directions
Wash and de-stem all mushrooms. Cut the mushroom heads into bite size pieces. Put the stems into a microwave safe bowl along with the stock. Microwave the stock and mushroom stems on high for 5 minutes.
Turn on the saute function of your pressure cooker and add the olive oil and butter, cooking until melted. Add the chopped mushrooms, salt and black pepper to the pot and saute them until most of the water has evaporated, about 10 minutes. Add the diced onion and continue sauteing for 3-4 minutes. Add the pressed garlic, soy sauce, and miso paste. Stir for approximately 1 minute. Add the rice to the pot and stir for about a minute, until the rice turns partially translucent. Add the wine and cook for about a minute. Strain the stock though a mesh screen into the pot.
Put the lid onto your pressure cooker and seal the release valve. Set the unit to manual on low pressure for 5 minutes. When the timer is up, open the release valve to quick release the pressure.
Pour yourself a glass of wine and consume at a reasonable rate.
When the unit is depressurized, remove the lid. Slowly stir in the heavy cream and continue stirring until the liquid thickens. Add about half the Parmigiano-Reggiano and half the parsley while continuing to stir.
Serve in bowls and garnish with more Parmigiano-Reggiano and parsley.